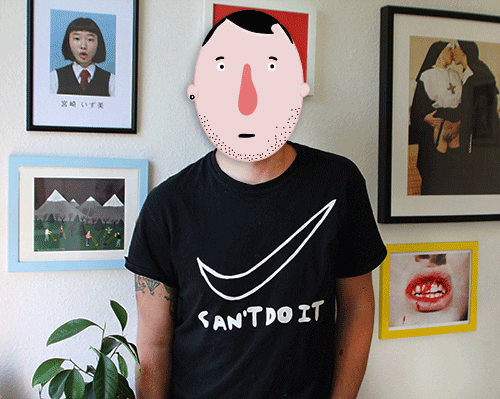 Andrea Vinciguerra is an Italian writer-director and creative based in London, working in animation, advertising and film.
Punk musician and visuals maker since young age, Andrea has developed a great passion for creating fictional work, sometimes fun, sometimes a bit edgy, most of the time heavily stylized. Swinging between live action and animation, Andrea's work is characterized by playful energy and bold, colourful aesthetics peppered with humorous (and often dark) twists that come from recognisable motifs in fresh situations.
Yes, behind him there is a frame with two nuns apparently in love.
---
You can contact Andrea and say "CIAO!"
andrea_vinciguerra@yahoo.com

This is also Andrea's phone number in case you forget how to write an email:
(+44) 07442 198860
For Animation commercial please contact:

For enquiries regarding the distribution of Andrea's short films please contact:
---


SELECTIONS OF AWARDS

Sundance Film Festival 2020 - Oscar Award qualifying - No, I Don't Want to Dance (Short Film)
SXSW 2020 - Oscar Award qualifying - Winner Animated Short Jury Prize - No, I Don't Want to Dance (Short Film)
Annecy International Animation Film Festival - Oscar Award qualifying - No, I Don't Want to Dance (Short Film)
Florida Film Festival 2020 - Oscar Award qualifying - No, I Don't Want to Dance (Short Film)
REGARD - (Canada) - Oscar Award qualifying - No, I Don't Want to Dance (Short Film)
IN THE PALACE Film Festival (Bulgaria) - Oscar Award Qualifying - No, I Don't Want to Dance (Short Film)
Kinsale Shark Awards 2019 - GOLD - Best Animated Short - No, I Don't Want to Dance (Short Film)
Encounters Film Festival 2019 - Oscar and BAFTA qualifying - No, I Don't Want to Dance (Short Film)
New Orleans Film Festival 2019 - Oscar Award qualifying - No, I Don't Want to Dance (Short Film)
le Book's NYC Creative Awards 2019 - Non-Advertising Category - Winner - Teeth and Pills (Short Film)
Interfilm Berlin 2019 - Oscar Award qualifying - No, I Don't Want to Dance (Short Film)
Leuven Short Film Festival 2019 - Oscar Award qualifying - No, I Don't Want to Dance (Short Film)
Aesthetica Short Film Festival 2019 - BAFTA qualifying - No, I Don't Want to Dance (Short Film)
The Smalls Film Festival 2019 - BIFA qualifying - No, I Don't Want to Dance (Short Film)
Vimeo Staff Pick - No, I Don't Want to Dance (Short Film)
3d Wire 2019 - European Film Awards Qualifying - No, I Don't Want to Dance (Short Film)
London Short Film Festival 2019 - BAFTA qualifying - Nomination - Teeth and Pills (Short Film)
21 Islands International Film Festival 2019 - New York City (NY) - Winner Best Director - Teeth and Pills (Short Film)
Dublin Independent Film Festival 2018 - Winner Best Experimental - Teeth and Pills (Short Film)
Las Cruces International Film Festival 2019 (NM) - Nomination - Teeth and Pills (Short Film)
Portland Comedy Film Festival 2018 - Teeth and Pills (Short Film)

Auckland International Film Festival 2018 - Nomination - Teeth and Pills ( Short Film)

Austin ArtHouse Film Festival 2018 - Semi-finalist - Teeth and Pills (Short Film)
Shooting People - Short Cut Competition - Winter 2018 and Summer 2019 Shortlisted - Teeth and Pills (Short Film) & No, I Don't Want to Dance (Short Film)
The World Festival of Emerging Cinema 2018 (Trinidad and Tobago) - Nomination - Teeth and Pills (Short Film)

Genre Celebration Film Festival (Tokyo) 2018 - Nominee Best Short and Best Director - Teeth and Pills (Short Film)
Crash - International Fantastic Film Festival 2018 (Brazil) - Nomination - Teeth and Pills (Short Film)
Independent Horror Movie Awards 2018 - Winner Best Humour, Nominee Best Short, Best Music, Best Original Concept
Los Angeles Independent Film Awards 2015 - Nomination - Moon Bounce - Fool (Music Video)
Berlin Music Video Awards 2014 - Nomination - Moon Bounce - Shake (Music Video)

---
PRESS