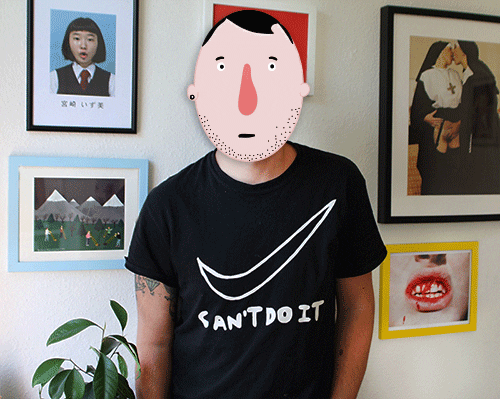 Andrea Vinciguerra is an Italian film director and creative based in London, working in advertising and film.
Musician and visuals maker since young age, Andrea has developed a great passion for creating fictional work, sometimes fun, sometimes a bit edgy, most of the time heavily stylized.
Yes, behind him there is a frame with two nuns apparently in love.
---
You can contact Andrea and say "CIAO!"
andrea_vinciguerra@yahoo.com

This is also Andrea's phone number in case you forget how to write an email:
(+44) 07442 198860
---
AWARDS
Vimeo Staff Pick - No, I Don't Want to Dance (Short Film)
London Short Film Festival 2019 - BAFTA qualifying - Nomination - Teeth and Pills (Short Film)
Las Cruces International Film Festival 2019 (NM) - Nomination - Teeth and Pills (Short Film)
21 Islands International Film Festival 2019 - New York City (NY) - Winner Best Director - Teeth and Pills (Short Film)
Dublin Independent Film Festival 2018 - Winner Best Experimental - Teeth and Pills (Short Film)
Portland Comedy Film Festival 2018 - Teeth and Pills (Short Film)

Auckland International Film Festival 2018 - Nomination - Teeth and Pills ( Short Film)

Austin ArtHouse Film Festival 2018 - Semi-finalist - Teeth and Pills (Short Film)
Shooting People - Short Cut Competition - Winter 2018 Shortlisted - Teeth and Pills (Short Film)
The World Festival of Emerging Cinema 2018 (Trinidad and Tobago) - Nomination - Teeth and Pills (Short Film)

Genre Celebration Film Festival (Tokyo) 2018 - Nominee Best Short and Best Director - Teeth and Pills (Short Film)

St Neots Film Fest 2018 (UK) - Nomination - Teeth and Pills (Short Film)

Weird Film Fest (San Francisco CA) 2018 - Nomination - Teeth and Pills (Short Film)

Crash - International Fantastic Film Festival 2018 (Brazil) - Nomination - Teeth and Pills (Short Film)
Independent Horror Movie Awards 2018 - Winner Best Humour, Nominee Best Short, Best Music, Best Original Concept

Wasteland Film Festival (CA) 2018 - Nomination - Teeth and Pills (Short Film)

Los Angeles Independent Film Awards 2015 - Nomination - Moon Bounce - Fool (Music Video)
Berlin Music Video Awards 2014 - Nomination - Moon Bounce - Shake (Music Video)


---
PRESS